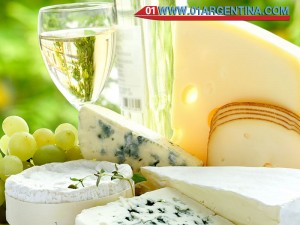 In the province of Buenos Aires , a unique culinary and cultural proposal , devised by producers, manufacturers and neighbors, delights visitors , the cheese route .
This alternative revaluation of the field, driving back to nature in the context of rural life , with the possibility of visiting local dairy and enjoy the exhibition, tasting and sale of the most varied types of cheese are made in the area , expand the cuisine in the Province of Buenos Aires.
Goat's cheese, sheep , buffalo and cow ; hard or soft , spreadable pastes or grated , sliced ??????or portioned ; brie , camembert , Chevrol , danbo , manchego , raclette, rebleusson , Tomme , among others, are some of the gourmet to discover the life of dairy and into productive traditions of the province.
Suipacha party , has lands suitable for livestock and tambera tradition that began in 1915 , with the arrival of the first Basque people . Today , technologically adapted to new market demands in order to promote the area for tourism , many producers receive tourists in their establishments conducting tastings and offering traditional dishes that favor locally produced food on their menus .
History of Cheese Route
This tradition started back in 1915 with the first settlers who occupied the Basque countryside, purely dedicated to milk production. Lots of water , or better said , a lot of milk ran from that time to this day.
In all these years the milk production in the region went through highs and lows , but no doubt these changes have allowed the actors throughout the dairy chain (primary production, industry and marketing) , adapt to changing market demands and technologies , allowing cheese and dairy develop high quality , respecting those ancient recipes for gourmet industry to offer the highest level of our country .
The route then the cheese is our little tribute community pays traveler transiting this section of the National Road No.5 , offering "in situ" the fruit of our best : our cheeses ; in its many shapes and forms: hard or soft cheeses , spreads or grated or sliced ??????into portions ; cow , goat , sheep or buffalo milk ; alone or combined with other flavors or products; You can go to this delectable sensory world that is generated around cheese , and place of origin.
Unlike other sightseeing, we are one of the only food routes in the area that offers a visit to the production process , which involves an aggregate we value our valued visitors , and lots .
Furthermore, as the project that originated in Suipacha tourism , we are declared Provincial Interest by the Ministry of Land Affairs of the Province of Buenos Aires.
After little more than a year of operation , we have received many compliments and constructive criticism from which we have learned , the more than 1,500 people visited us. All emphasize that despite being young and project , we provide a service that meets all your expectations and have gained a great experience in a short time .
We are more than 80 people working on this project , side by side , making great efforts to give the best of us.
We have several projects that are derived by operating or will soon , like cheese or project Suipacha " Cheesemaker for a Day" , to be released soon.
And as a finishing touch of this, each of the members of the Cheese Route is recognized locally, regionally and even nationally for the excellent quality of its products.