Declared a World Heritage Site, the tango was born in Buenos Aires. A popular music genre and dance that conquered the world with his music, his dance , his lyrics and poetry. In essence, the tango is an artistic expression of fusion distinctly urban and suburban nature root, which responds to the specific historical process , mostly European mass immigration , which completely reconstituted the River Plate societies , especially in Buenos Aires , in the past decades of the nineteenth century. Here you can find many places with live orchestras and dancers . Many of these often include dinner with the best Argentina and international cuisine.
No other dance more intimately connect two people , both emotionally and physically. And the tango dance is built on three basic components: a hug, a slow walking style and improvisation. But above all things, is danced as an intense body language that conveys myriad of emotions.
There are places where you can dance the tango , known as milongas. Many organize dance classes before the Central by specialized teachers. Classes are also offered in many cultural centers, where lessons can last between one and two hours. Ideally take four or five classes to master all 8 basic steps.
The tango is very appreciated by the subjects of his lyrics, composed based on a local language called slang. The heartbreak is also a common theme, showing the interior , emotion and depth of a jilted man. Sexual desire surfaced to the plight of millions of lone workers and immigrants for whom brothels accentuated the evidence of his loneliness.
Reflection on time is also a very special feature of tango lyrics , making a desagarrada look at the destructive effect of time in relationships , things , and life itself .
Monument to tango in Puerto Madero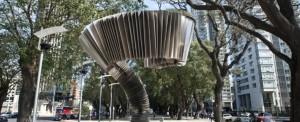 Located in a small square , the Monument to the Tango is a work of art that is admired by all visitors in Puerto Madero.
The sculpture, by Estela Trebino and Alejandro Coria , evokes the bellows of an accordion being opened . It was constructed of stainless steel and has a height of twelve feet and weighs two tons . Pays tribute to the most emblematic musical genre of the City of Buenos Aires. Opened in 2007 , November 22 , Day of Music. The abstract figure shaped bellows reaches 3.5 m in height and resembles a bandoneon , an instrument must in the interpretation of tango.
The monument was the result of a contest that invited to submit projects to pay tribute to one of the most representative rates of the locals.